Synthetic Grass for Specialty Applications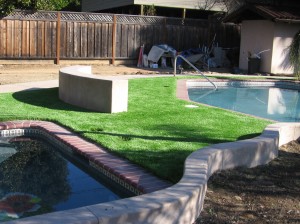 Artificial Lawns Direct is a fully licensed, bonded and insured Landscape Contractor, specializing in synthetic turf sales & installation. Plus fill in your walkways and driveway with beautiful Pavers installed by a true specialist.
Save even more money by installing a drip system to utilize the proper amount of water for every plant. Reduce your overall water consumption with water free and forever green lawns, saving money year after year.
This is a very unique project that used beautiful artificial grass placed upon very porous cement surrounded by two pools.
Contact Us for more information or view examples of specialty installations.