Synthetic Grass for Dogs & Pet Runs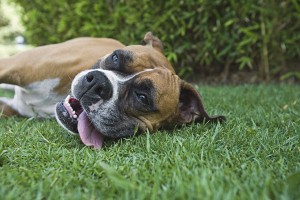 Tired of dead grass spots, holes and muddy or smelly areas of your yard caused by your pet? Wish you could say goodbye to cold concrete, gravel, muddy yards, and dirty paws? If so, canine grass could be your solution.
Regular artificial grass and turf provide a dry, clean and beautiful area for your pet; however, our specialized canine artificial grass works even better. Why? Because the new era of pet turf is extremely porous, has a short dense blade structure and antimicrobial protection to keep out unwanted bacteria.
Canine grass is soft, safe, beautiful, easy to take care of, clean, and better smelling for pets. Rain water dries quickly so anxious pets can go outside, run around and come back in as clean as before they went out.
Pets love to lie on the grass as it warms up in the sun as well as exercise and play on the grass because it is soft on their paws.
Pet waste is no problem as the canine grass is cut very short for easy pick-up of waste while urine passes easily through into the base.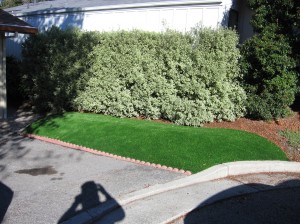 Artificial Lawns Direct carries canine turf and products such as superfill (kitty litter for turf), disinfectant and bio-wash solution for when concentrated areas of urine need to be broken down for a complete flush.
You'll benefit from the long-term savings, added cleanliness and ease of maintenance.
Contact us for more information.