Artificial Grass for Residential Installations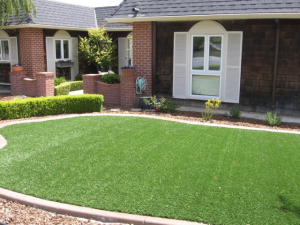 Be the envy of your neighborhood, while saving time, money, and most of all, water!  Artificial Lawns Direct is your residential lawn specialist.
Our extensive range of turf choices will accommodate any need, and any budget. Artificial Lawn Direct's synthetic grass selection is the largest in the Central Coast area, with all types of turf, from all major manufacturers, and in all price ranges.    Our selection includes lawns especially for children's play areas, pool areas, pet-friendly and anti-microbial turf for dog runs, grass for sports, putting greens and accessories.  Our customer service, along with our quality work, ensures you an incredibly realistic result.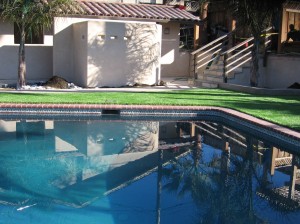 As a landscape contractor, we're able to adapt your landscape for artificial turf.  Our landscape designer can help make your yard more interesting and unique.  Drought-tolerant plants and drip irrigation will help you save water, and a layer of beautiful mulch can change your yard into a more usable and inviting place.  Installing synthetic turf can help you reclaim unused areas of your back yard.
Contact us for more information or view examples of residential installations.