Artificial Playground Safe Turf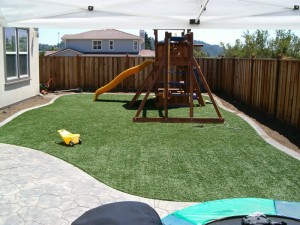 This synthetic grass product is made of recycled polyethylene foam packaging material, ½" to 2½" thick and available in 4' x 6' sheets or panels as a shock attenuating pad. Used under artificial grass and over the aggregate Class II Base material – providing added safety protection against drops and falls on playgrounds and home yards. It also provides excellent drainage below the artificial turf grass layer and above the aggregate base.
For added safety protection, only two spikes are used to hold each padding in place. The artificial turf is placed over the pads and only fastened around the edge of play area. Thus eliminating the loosening or lifting of nails, spikes or similar materials becoming a hazard.
Contact us for more information.